Many PhonePe users want to delete Transaction History, but they do not see any option to delete History on PhonePe, so we have decided to write this post, if you are also among them, then in this guide PhonePe Transaction Complete information on how to delete history permanently has been given.
What is PhonePe?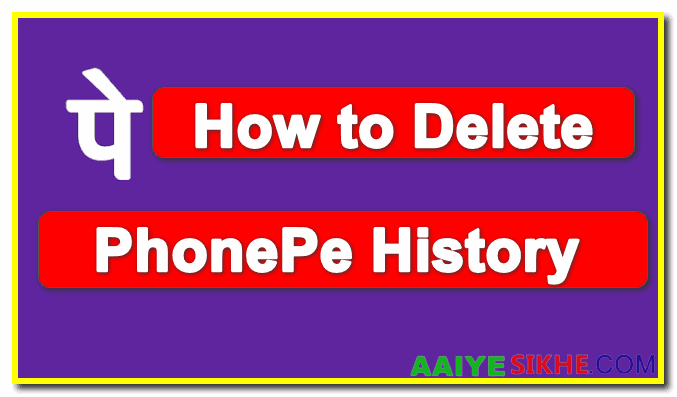 PhonePe is a UPI based mobile payment platform using which you can send money or receive money in your bank account.
PhonePe offers to win scratch cards for an eligible transaction and if you win offers through scratch cards it will be credited to your PhonePe wallet.
You can use PhonePe wallet balance to pay for mobile recharge, data card, DTH, electricity bill, gas bill, book flight ticket, train ticket.
PhonePe is a secure application that is available to help 24/7 and can be used even on bank holidays and weekends. It also offers MPIN features to provide added security, you need to enter the MPIN to complete the transaction.
What is PhonePe Transaction History?
The way we do any activity on the browser, its history is done from the browser, in the same way, if you do any transaction in the PhonePe application, its history is saved in the PhonePe account, which you can access anytime. You can also see to whom you had sent money and from whom you had received money.
PhonePe Transaction History can prove to be very helpful to see any transaction information or to show it to anyone as a proof. Suppose you have sent money to someone and he is telling you that you have not sent any money, then you can send the screenshot of PhonePe Transaction History to them.
But due to some reasons, many people want to delete and clear the transaction history. Here's how you can delete PhonePe transaction history.
How to Delete PhonePe Transaction History
There is no direct way to delete a transaction on PhonePe, for this you have to request PhonePe customer care, the method is explained below.
Step 1. First of all, open the PhonePe App in your mobile.
Step 2. Now click on History option.
Step 3. Now select the history which you want to delete.
Step 4. Now select Contact PhonePe Support.
Step 5. After this write a message "Hello Sir, I want to hide or delete this transaction for some personal reason" after writing this much send the message.
Step 6. Then the support team will contact you to confirm and then after confirming, the transaction history will be deleted.
Another way to contact PhonePe Support
If you are not getting the option to make a request in the PhonePe App, you can send a request to them directly from the PhonePe website.
Step 1. First of all visit support.phonepe.com .
Step 2. Now type your PhonePe account mobile number.
Step 3. After typing the mobile number, you have to click on Next , after typing the captcha code and clicking on SUBMIT & GET OTP, OTP will come on your registered mobile number and submit by entering the OTP, after that you will be in PhonePe Help Center Login will be done.
Step 4. After that you will see many options out of which other issues have to be selected.
Step 5. Now a new page will open in which you have to write about deleting the transaction history, as we have told you, after writing click on the SEND button at the top.
Read also: How to off Background Data in Mobile?
So in this way you can get PhonePe Transaction History Permanently Deleted. However, in PhonePe you cannot delete transaction history by yourself, for this a request has to be made to PhonePe Customer Care.