Are you troubled by spam calls, then here is a list of mobile call blocking apps, from which you can install any app in your mobile, stop all mobile calls, block unknown calls. Can turn off, add any number and turn it off, block spam messages, means to say you can control calls, control SMS, because this Call Control, SMS, Call Blocker , Block Spam Calls Apps.
Many features have been given in these to control the calls, you can create Whitelist, even after closing all the calls, if you want to call from a particular number, then you can add that number to the Whitelist. Are .
Which is the Mobile Call Blocker App?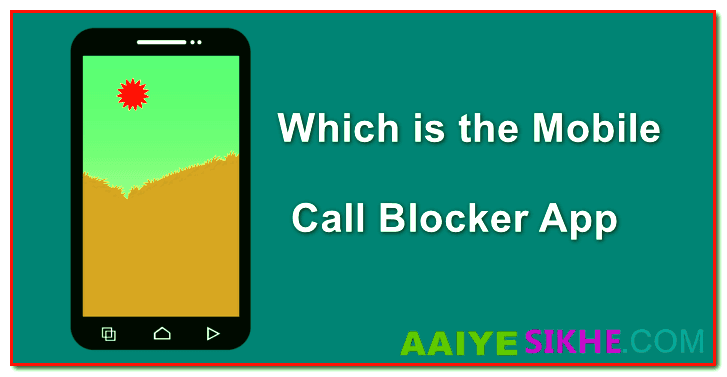 Now know, which is the mobile call blocking app? There are a lot of call blocking applications on the internet, but we have made a list of 10 best call blocking apps, by downloading any of these apps, you can completely control the calls and messages .
Click on the name of the app to download:
| | |
| --- | --- |
| 1. | Call Blocker Free – Blacklist and Whitelist – Block all calls, block calls from a single number, create a Whitelist of numbers to receive incoming calls. |
| 2. | Calls Blacklist – Call Blocker – Add numbers to block, or block all numbers, add numbers to receive calls, so that calls from those numbers reach you. |
| 3. | Call Blocker – Turn block numbers on and off, block numbers that aren't in your contact list, or add numbers you want to block, block calls by area code. |
| 4. | Truecaller – Truecaller identifies the college, blocks spam calls, alerts you to incoming calls. |
| 5. | Hiya – Call Blocker, Fraud Detection & Caller ID – Apart from blocking spam calls, it is also an antivirus app that keeps your mobile safe from viruses. |
| 6. | Should I answer? – There are also many features to block incoming calls, you can block any call, and allow any number to reach you. |
| 7. | Call Control – SMS/Call Blocker. Block Spam Calls – As the name suggests, this is a call control app, with the help of which you can control SMS, calls as per your wish. |
| 8. | Call Control – This is also a great application to control incoming calls, which number to block, and which number to receive calls, or block all incoming calls, many such features are given in it. Are . |
| 9. | Incoming Call Lock – This is a very good application to lock and unlock incoming calls, you can lock the number you do not want to receive calls, you can lock calls from unknown numbers, which are in your phone book. No, and you can add the number you want to receive calls from, so that calls from that number keep reaching you. |
| 10. | CallApp – In addition to blocking messages and calls, identifies spam messages and calls, you can also record calls. |
How to use Call Blocker App
Using the call blocker app is very simple:
First of all download and install any app from the above list in your mobile.
Now open it, after that it will ask for permission, give it permission.
Then you will reach the menu of the app, there the call blocker option has to be turned on.
You can add numbers to the Whitelist whose calls you want to receive.
By turning on unknown numbers, all numbers that are not in your contact list will be blocked.
Call Blocker Free – Blacklist and Whitelist How to set up the app, or how to block incoming calls without installing the app, you can read this post: How to block incoming calls on mobile
There are many apps in the list given above, through which you can block calls as well as identify incoming calls, you can know who has called, from which state, what is the name of the caller. That is, you can get the complete details of the incoming call.
Many times on our number, calls keep coming from unknown number, and we think that who has called this call, if you also have a lot of unknown calls, then you can identify it, who has called you, call What is the location of the caller, what is the name of the caller.
So in Call Blocker Free, Calls Blacklist, Call Blocker, Truecaller, Hiya, Should, Call Control, Call Control – SMS/Call Blocker. What do you think about Block Spam Calls, Incoming Call Lock, CallApp, how was your experience about them, do share your views through comments.