Friends, in today's post, we are going to tell you what is Paypal, and how to open your account on Paypal, this is a website through which we can send and receive online payments and it was launched in 1998.
If you are a blogger or you have a business online, then you  must create a Paypal account . Because most of the website pays through Paypal only. With Paypal you can Receive and Send money from any country. You will not have to share your personal information when paying with Paypal, you will only have to give your Paypal  Email Id  , what you need to have to create a Paypal account.
What is needed to create a Paypal account?
your mobile number.
Bank account.
Pan Card.
Credit Card या Debit Card.
Your address.
Come on, now you have come to know what is Paypal, what is the use of Paypal Account and what are the things required to create Paypal Account, now let us learn how to create Paypal Account .
How to create Paypal account?
Step 1 : First of all you go to paypal .
Step 2 : Now click on Sign up .
Step 3:  Now a page will open in which you have   to tick mark the Individual Account  and click on the NEXT button.
Step 4:  In the next page, you have to enter your mobile number along with the country code and   click on the NEXT button.
Step 5: After that a 6 digit one time password will be sent to the number you have typed , type that and click on the submit button.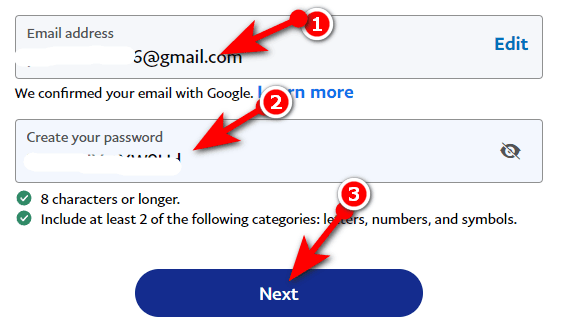 Step 6 : Now a form will open in that, enter your email id, enter password, then click on NEXT button.
Step 7: Then another form will open in front of you, fill it correctly, keep in mind that Paypal user name should be in the name of your Pan Card, if you do not have Pan Card then you can create it in the name of your partner. But he should also have PAN card.
select country
enter your first name
enter middle name
enter last name
Enter your date of birth
Select your country in Nationality
Enter your address in Address Line1
Enter address in address line 2
Town City Cast
Select your State
enter your pin code
enter your mobile number
Then   click on Agree And Create Account  by ticking the box with activate one touch , if the option to enter the code comes in front of you then enter the code then click on Continue .
Step 8:  Now again a form will open in front of you, in that you have to enter the details of your credit card or debit card, if you do not have it then you can leave it now, click on I'll' link my credit  card letter .
Step 9 : Click on Goto The Account , now your Paypal Account has been created, then an email will come on your Email from Paypal, open your Email ID and verify it.
How to verify Paypal account?
Step 10 : Open your email, click on Verify Link  , now your email is verified.
Step 11 : Now enter your password and click on Login.
Step 12 : Now Paypal will ask you a question for the security of your account, give their answer, keep in mind, which question you have answered, because you can be asked the answer to that question while login to Paypal account.
Step 13 : Now enter your Bank Account details in the next page, after entering Bank Account details, Paypal will deposit 2 small deposits in your Bank Account within 24 hours or 2-3 days, such as Rs 1, 50 or Rs 1. After going to the account, both those deposits have to be returned correctly, that is, the amount of money received has to be checked and inserted properly, after inserting it, your Paypal will be verified.
I hope now you have understood what is Paypal and how to create your account on it, if you like the post then do not forget to share it with your friends  on Facebook , Twitter .