In this post, we will discuss how to recover deleted photos from mobile using DiskDigger Photo Recovery. Losing photos from our mobile can be distressing, but need not be panicked about it. We will introduce you to the best Photo Recovery App that will help you recover your lost photos in no time.
Photos are significant moments in our lives, captured to help us remember. However, there are instances when we accidentally delete them from our mobile devices. If you have experienced this, then this article is for you. Here, you will discover how to retrieve deleted photos from your mobile device.
To ensure permanent retention of mobile data, install Dumpster Recycle Bin and refer to my corresponding post.
Learn How to Add a Dumpster Recycle Bin to Your Android Phone with Ease. Discover an Easy Way to Install the Dumpster Recycle Bin on Your Mobile Device! Get the DiskDigger Photo Recovery App – a Valuable Tool to Have on Hand.
What is DiskDigger Photo Recovery?
DiskDigger Photo Recovery is a mobile application that enables you to retrieve photos deleted from your mobile device up to one year ago. It can recover all types of photos, whether they were deleted from your mobile device, memory card, or WhatsApp.
This application has the unique feature of functioning effectively on unrooted mobile devices, without requiring root access. However, if you desire to root your mobile device, you may refer to this post on how to root Android mobiles without a PC, which guarantees 100% effectiveness.
How To Recover Deleted Photo From Mobile
To begin, download and install the DiskDigger photo recovery application on your mobile device. You can find it here: https://play.google.com/store/apps/details?id=com.defianttech.diskdigger&hl=en_IN&gl=US.
Step 2: Launch it after installation.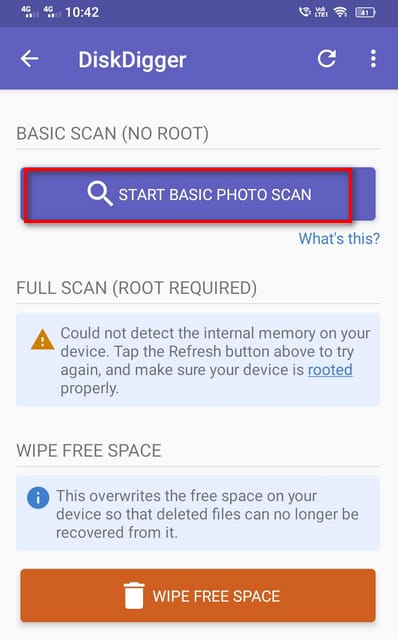 Step 3: Upon opening, select "start basic photo scan."
Click Start Basic Scan, then grant permission by clicking the Allow button.
"Step 5: The photo scanning process will begin, and the duration will depend on the quantity of deleted photos. Please be patient and wait for completion."
Step 6: After the scan finishes, a message reading "Scan Completed" will appear. Click "OK."
Step 7: View all deleted photos from your mobile, select the desired photo, and click on "Recover".
Step 8: Choose a location to save the Recovered Photo. You can save it in Dropbox, Google Drive, Mobile, or SD Card.
Choose a custom location to save the deleted photo in your mobile gallery. Once you've selected the location, the photo will be saved.
Photo Recovery App
There are multiple photo recovery apps available in the market. However, we are recommending the ones that I personally use. These apps enable you to recover deleted images from your mobile device.
Photo Recovery-Restore photos
Photo Recovery is a software that specializes in restoring photos. You can obtain it without charge from the Google Play Store to recover pictures from your mobile device.
Deleted Photo Recovery
Photo Recovery: This app retrieves deleted photos and is available for free on Google Play Store. To download, simply search for "Deleted Photo Recovery" in the search box on Google Play Store.
EaseUS MobiSaver- Recover Video, Photo & Contacts
Recover deleted videos, photos, and contacts with EaseUS MobiSaver. This application makes it simple to retrieve lost data from your mobile device.
How to Get Deleted Photos Back
Follow the aforementioned steps to recover the deleted photo or download any of these free applications from the Google Play Store.
How to Back up Your Photos
Photos may be inadvertently deleted from a mobile device at any time. However, if the device is operating properly, it is possible to recover them. The primary complication arises when both the photos and the mobile device have been deleted. If this occurs, it may be impossible to recover the deleted photos. To prevent this issue, it is recommended that you back up your photos regularly to enable them to be reinstated when required.
Photo Backup App
Open the Google Photos app in your mobile, if you do not have it in your mobile then you can download it from here.
Now you have installed it for the first time then login with your google account.
Then click on your profile icon at the top.
Now click on Photos Settings.
After that click on Backup and sync and turn it on
After enabling Backup and sync, you have to scroll down and click on Back up device folders.
After that select any folder you want to back up.
The selected folders will be automatically backed up and saved in Google Drive, allowing for easy restoration if necessary.
So in this way you can recover deleted photos from your mobile.
I hope, how to recover deleted photos, the post must have been helpful for you, if you think this post is helpful for you, then do share it with your friends.