Everyone eagerly anticipates a person's birthday, which is one of the best times of their life, especially if it is a child or teenager. With the establishment of the British Empire came the beginning of Happy Birthday in India. At first, our culture rejected this celebration trend, but over time, it came to be accepted.
A birthday these days would not be complete without a song and a decorated cake. The most prevalent and significant elements of celebrating someone's birthday are birthday cards and wishes.
What is the birthday song for your name?
Any song that is sung in the name of someone who has a birthday is said to be their birthday song. By including his name in that song, you can wish him a happy birthday. Giving someone a birthday card used to be customary, but today it is regarded as outdated due to the passage of time. Today, this tradition is connected to sending birthday messages via WhatsApp, Facebook, Instagram, and other social media. Now, Happy Birthday Song includes both song and dance.
Because everyone has access to the internet in this day and age, we can send a message to wish someone a happy birthday in a matter of seconds. There are numerous ways to wish someone a happy birthday, but in this case, we're only interested in the Happy Birthday Song. You can create a song in the person's name and post it on social media to wish them a happy birthday. Consequently, let's learn how to download Happy Birthday Song.
Read also: 4K Free Video Downloader | All Video MP3 Downloader Site
How do you make a Happy Birthday Song with your name?
It's very simple to write a Happy Birthday song. By following the steps listed below, you can make a Happy Birthday Song for any name in a short amount of time.
Step 1: First, visit the https://www.1happybirthday.com website.
Step 2: When you visit the website, you will see an alphabet from A to Z at the top. In addition to typing your name into the search box, you can also choose the first letter of your name to find the song that goes with it. can look up.
Step 3: Next, you'll see a list of names that are related to your name; pick your name from that list.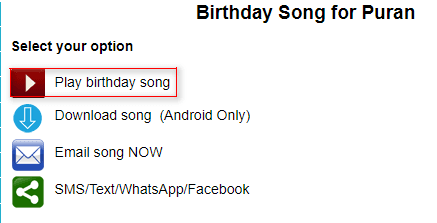 Step 4: Then click on Play Birthday Song.
Birthday Song Download करें
Step 5: Now a new page will open on which your song will start playing. Now three dots are made to download Happy Birthday Song MP3. Click on them. After that, you will see a download button. Click on it on your computer. Or, You can save the Happy Birthday Song with your name in the mobile gallery .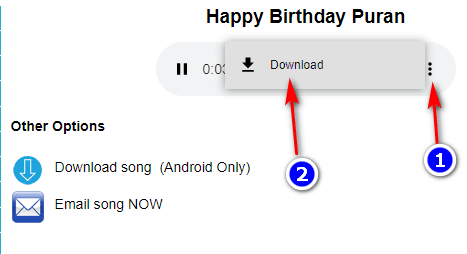 You can quickly download the song "I wish you a happy birthday" using this method. This website already has A To Z Nane's birthday song, which you can search for, listen to, download, and share with your friends. Any friend's birthday can be wished with a happy birthday song mp3.
Happy Birthday Song Maker App
Birthday Song With Name, Birthday Wishes Maker

A great app to create a happy birthday song with your name is Birthday Song With Name: Birthday Wishes Maker. You can create a birthday song with any name of your choice using the free download.
Download Birthday Song With Name App
Due to its characteristics, the birthday song with a name is becoming more and more well-known every day. Your friend's name can be easily entered into the song. You can dedicate any of the many birthday songs that are available in lovely voices to your brother, sister, wife, or anyone else. This app offers you beautiful birthday stickers, chic picture frames, an accurate age calculator, a photo-decorated cake, and heartfelt birthday wishes, in addition to everything else related to birthdays.
How to download the Happy Birthday song on a Jio phone
Downloading the Happy Birthday Song on Jio Phone is very easy; just follow the steps given below:
First of all, open the browser on your mobile.
After opening, you have to open https://www.1happybirthday.com/ this website.
After that, on the top side, you will see the search box. Type your name and then click on the search button.
Then you will see many songs related to your name. Click on the one you want to download.
On the next page, you have to click on the play button; after that, your Happy Birthday song will start playing.
Now on the side of the audio player, you will click on the T dot, and then you will see the download button, As soon as you click on it, Happy Birthday Song will start downloading on your Jio phone.
Birthday song-making website
Friends, in addition to this, if you'd like to learn about the websites that create birthday songs, we've provided a list of them below. You can visit them to download a Happy Birthday Song that bears your name.
https://www.1happybirthday.com/
https://birthdaysongswithnames.com/
https://www.animaker.com/
Birthday Song Making App List
This is also a very good birthday song-making app, and you can download it for free by searching for the name of the app in the Google Play Store.
Birthday Song With Name, Birthday Wishes Maker
Birthday Video Maker App : Birthday Song With Name
BIRTHDAY SONG WITH NAME(MAKER)
BIRTHDAY SONG WITH NAME BY SOFTTRINITY
HAPPY BIRTHDAY SONGS WITH NAME OFFLINE
How to make a birthday song out of your name
With the aid of these programs and other websites, you can easily create Happy Birthday Songs with any name. As we mentioned above, you can download Happy Birthday Songs by A-Z names by simply typing the name of the song you want to download.
Read also: How to Add Song Music on your photo?
FAQ related to how to make a Happy Birthday Song of your name
Can I add my name to the Happy Birthday song?
Install the "Birthday Songs With Name Maker" application first, then launch it. Then pick a song for birthday greetings. After choosing the song, include the names of any performers.
How can I make a birthday song with pictures?
Go to Smilebox.com. Decide which birthday video design you prefer.
adopt it as your own. Upload your pictures, change the style, and add text and music.
Share with your family and friends. Send it via text, email, or social media!
How do I make a birthday video online for free?
You can use the aforementioned website for this, or you can also use the Birthday song-making app described in this article.
Which is the best app for Birthday Video Maker?
You can use any app to message me; this is all free and a great Birthday Video Maker app.
Birthday Song With Name, Birthday Wishes Maker
Birthday Video Maker App : Birthday Song With Name
BIRTHDAY SONG WITH NAME(MAKER)
BIRTHDAY SONG WITH NAME BY SOFTTRINITY
HAPPY BIRTHDAY SONGS WITH NAME OFFLINE
How do I make a unique birthday video?
Step 1 is to begin your project.
Step 2: Post images and videos.
3. Drag and drop your pictures.
Choose your birthday's colors in step four.
5. Add Birthday Mu.sic.
How do I make a birthday card with a song?
How to Make a Personalized Singing Birthday Card
Visit smilebox.com.
Select Musical Birthday Card Templates from Musical Birthday Card Templates.
Customize Cards! modify design elements
Add your personal text and photos, add music!
There are a few songs available, or you can upload any song you want.
What do you write in a birthday story?
Casual, short birthday messages are always a nice touch.
I hope your celebration gives you many happy memories!
enjoy your special day.
Have the best birthday ever!
Wherever the coming year takes you, I hope it is filled with happiness.
All day is yours – have fun!
On your birthday, I'm thinking of you and sending you my best wishes.
How can I wish my friend a happy birthday?
short and sweet birthday wishes for best friend
Happy birthday to my favorite person.
Without you my life would suck.
Today is all about you.
Wishing you a day that is as special and wonderful as you are!
best wishes for your birthday! ,
Life is more fun with you by my side.
Happy birthday to my truly amazing and unique best friend.
How do I make a birthday video?
How to make Birthday Video Slideshow in 6 easy steps.
Create an event page.
Invite friends by sharing a link to the event page.
upload photos.
Drag and drop video clips and photos in the order you want.
Choose video theme and music.
Release the finished movie.
How to say Happy Birthday in a unique way
How to say Happy Birthday in a unique way?
image result
New and Different Ways to Say "Happy Birthday"
Wish you a million magic!
A remarkable year ahead!
Best wishes to you for more years to come.
Light a candle and make a wish.
In the news!
Happy Annie-Birth-Sari!
Happy anniversary with life.
On his birthday, how can you surprise your husband?
gift basket. No matter your budget, gift baskets are the perfect way to make your husband feel special.
Record a song for her.
Birthday lunch at work.
DIY birthday gift.
Love Notes.
Donate to their favorite charity.
Cook his favorite food.
Make a plan for an adventurous and unforeseen event.
What is a music card?
A fun way to increase the thoughtfulness or humor of a greeting card is with music cards. Most cards have a tiny gadget built into them that, when opened, starts playing music and is powered by a tiny battery.
How do you put your birthday in an Instagram story?
Open an Instagram Story and find a photo with room above or below it so that the notification box doesn't cover the subject. To create a box, click the Text tool, choose the first font, and then type a period. To make a text background the length of the box, add some text and repeatedly hit Space.
What is a cute birthday message?
Even though it's your birthday, I consider you to be a gift. You are special because you are who you are, not because it is your birthday. It's always a treat to wish someone so dear a happy birthday. Cheers to a fantastic birthday!
How do you wish your crush a happy birthday?
May your day be as beautiful as you are to me.
most beautiful girl in the world.
Telling your crush that I like him on his birthday.
I am very happy to meet you.
Wish you a day of happiness and joy.
For me, you are the most priceless individual.
How do I make a banner in Word?
Install Microsoft Office and open Microsoft Word.
Choose an appropriate banner template.
Customize banner.
Click on the placeholder button to edit.
Save last.
How do you say birthday greetings in unique words?
Enjoy this wonderful day and all the others to come! I really hope you have a great birthday. On your special day, I send my best wishes your way. I hope your day is as unique as you are.
Although there are many websites on the Internet where you can download Happy Birthday Songs, we have told you about the best application and website, so you now know how to create a Birthday Song in your name. The unique feature is that downloading any Happy Birthday song from them is very simple. If you have a smartphone, you can download an app that lets you send birthday wishes to friends, family members, spouses, and girlfriends. In addition, read this post if you want to create a wallpaper with your name on it: How to Create a Name Wallpaper