How to make a video from your photo here ? Put simply, photos are snapshots of the best moments of our lives. Just one picture can tell a million stories and remind us of those times, wherever we go, we click photos with our mobile cameras and even share them with our friends, but if you want. You can make a video of those photos with music.
This is a great idea to wish your friends or your girlfriend by creating a romantic video slideshow and sharing it. Because photo video has everything needed to hit the right chord in someone's heart.
How to Create a Video By Combining Photos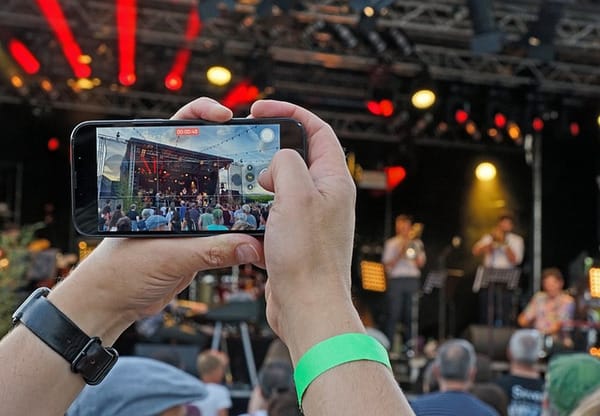 You can create a video with pictures and music using video editing apps. Follow our tutorial below to learn the easiest way to create a video with pictures and music.
Photo Video Maker App Download
| | |
| --- | --- |
| 1. | Photo Slideshow with Music |
| 2. | FilmoraGo – Video Editor, Video Maker For YouTube |
| 3. | Magisto – Video Editor & Music Slideshow Maker |
| 4. | KineMaster – Video Editor |
| 5. | PowerDirector – Video Editor, Video Maker |
| 6. | Music Video Maker: Slideshow |
| 7. | Pixgram- video photo slideshow |
How to Make Video By Combining Photos
To create a beautiful video of our photos, we will use Photo Slideshow With Music App, it has many good features for making videos, the special thing is that it is a completely free application, let us know how to use it.
Step 1 : Download Photo Slideshow With Music App in your mobile
Step 2 : After this, open the app, when you open it for the first time, it will ask you for permission, click on Allow button.
Step 3 : Now click on the + button at the bottom .
Step 4 : After that the mobile gallery will open, now select the photo of which you want to make a video, after selecting the photo, hit on DONE visible at the top.
Step 5: Now a new page will open in which you will be asked to select the video size, you can select any video size from Instagram, Status and YouTube, I have clicked on Auto here .
Step 6 : After clicking on Auto , the photo slide show is ready, now you can save it by clicking on the Save button at the top , but if you want to make your video more beautiful, then at the bottom, change the theme. You can add tax, you can add music.
Photo Slideshow With Music lets you add video clips and still images, timelines, transitions, and create stunning photo slideshows for professional or personal use. You can create a photo slideshow with music in no time. Simply add your photos, add transitions and choose your soundtrack. Create a photo slideshow in minutes and share it with family and friends or save it to your mobile.
How to Make Video From Photo in Computer
Now we are telling you how to make video from photos in computer. If you do not want to download Photo Slide Show App in your mobile and you have a computer laptop then this is the best way, you can create a beautiful video of the image in just a few minutes.
Step 1: First download slideshow maker on your computer. It's very easy to use! Please note that the freeware can only be installed on Windows-based computers with Winston Vista or higher version. Save the installation file and launch it. To install Slide Show Maker correctly, you must be connected to the Internet.
Step 2: Then install it on your computer. Wait for the installation process to complete. By default, the application will start automatically. If you want to use it later, uncheck the option to run the utility at the end of the installation.
Step 3: Now open Freemake Slideshow Maker and click on" Photo " button.
Step 4: Now select the photos from your computer, you can simply drag-n-drop the library into the app.
Stage 5:Now make your slideshow beautiful with the background track. Add an audio file that best suits your content. Then click "No audio" in the slideshow line and select your music. Please note that you can only add a non-protected song to your photo slideshow.
Step 6: Now double-click on the slideshow with music to launch the video editor. Here you are able to set the interval for each photo – from 1 second to 20 seconds. The longer the time period, the longer your slideshow will be. You would be better off choosing an interval of 5 seconds to get a video slideshow of several minutes.
Set transition effects if necessary. Freemake offers a special " panorama " effect that zooms in and out of photos in the slideshow.
Preview the photo slideshow template to make sure it looks good. Click " OK " to proceed to the video creation step .
Step 7: After that, you have to convert the pictures and music into video. Select a format in which you want to save a presentation. If you want to share on a phone (both iPhone and Android), tablet or online (e.g., embed on your blog or upload to Instagram), we recommend choosing the MP4 option. For TV, choose AVI format. For older phone models, go to 3GP and so on. Use the "Output to YouTube" option to upload photos to YouTube directly from the program interface.
Click a button with the required extension. Then choose one of the ready format that you need. If you have a specific gadget, you can create a custom profile for it with the necessary settings such as video resolution, codec, bitrate and others.
Set up a folder for your new photo presentation. Click on "Convert " button and wait for a while.
When the video file is ready, you can upload it to your device, share it with friends online, or embed it in your WordPress blog with the free FreeCam Slider plugin.
FAQs related to how to create a video by combining photos
How to make a video with photos and music on Windows 10?
Freemake Slideshow Maker runs on all recent Windows versions including Win 10. Download this tool. To create a slideshow with your personal photo collection and a background song, please follow the steps above.
How to create a memorial slideshow with music for a family collection?
To keep your family photos stylishly and in a safe place, we recommend that you export your slideshows to a USB stick or DVD disc.
Alternatively, you can save your project in a PC-friendly video format (AVI or WMV) and keep it on your hard drive for the long term.
How to add text to video slideshow?
You can add a text message to go with your pictures in any picture editor, for example MS Paint. Just do this before creating the slideshow video clip. Make sure the image files are of good resolution for reading text on a large screen. When creating a presentation, you can combine your photos with other ones along with text.
Is it possible to mix photos and video clips in a slideshow?
Yes, your final video file can contain another video clip at the beginning or end of the slideshow. You just need to switch on the join option in the top right corner of the main window. Then follow steps 4-5 to convert your media into slides.
How to make video from photo in Jio phone
To make video from photo in Jio phone, we will take the help of a website, through which you can easily make video from photo because you know that no Android app is installed in Jio phone. So let us know how to make video from photo in Jio phone.
Step 1: First of all open the browser in your Jio phone.
Step 2: Then   type imagetovideo.com in the browser, you can also go directly from here.
Step 3: Now create an account by clicking Signup for free.
Step 4: After creating the account, you  will see the option of Image upload on the top  , click on it and upload the photo. You can upload maximum 30 photos in the free account.
Step 5: After uploading the image, you will see the option to add music, by clicking on it you can add any song or music from your Jio phone.
Step 6: Now finally click on Create Video , the video of the photo will be created in some time, then click on download, download the video of your photo in Jio.
Conclusion
So this was the simple way to make video from photo, in which we told you how to make video from photo in Android mobile, how to make video from photo in computer and laptop, and also told you how to make video from photo in Jio phone, I Hope you liked the post on how to make video from photo , if yes then share this post with your friends. Thank you