In this post, we are going to tell you, how to change/edit/update the mobile number of Gmail ID , or how to change the mobile number of your Google account.
If your mobile number is lost or many people have come to know about your mobile number on which you have created Gmail ID, in such a condition you should change the mobile number of your Gmail ID.
Because this can also hack your Gmail ID, even before this we have shared many posts about Google Account with you, if you do not know what is a Google Account, What is A Google Account, then this post must Read it.    
If you are on a Youtuber and want to transfer your YouTube channel to another Gmail ID i.e. Google Account, then how to transfer Youtube Channel to Another Gmail Email Id, you read this post, it will be very useful for you, and If you are a blogger, how to change the email address of Apne Blog, then you read this post, now let's come to our topic and learn how to change gmail mobile number.
Also Read: How To Know Whatsapp Hack Is And How To Remove Whatsapp Hack?
How to Change/Edit/Update Mobile Number of Gmail ID
To change gmail mobile number, first you have to login to your Google  account, but if your mobile is lost and you have enabled Google 2-Step Verification for the security of Google account, then while login OTP will come on mobile number, you can login to Google account only after entering that OTP code, but if you are already logged into your Google account and want to update its mobile number, then you have to type only Google account password. Will have to
How to Update Gmail Mobile Number
Follow this tape to change Gmail Mobile Number, if you have a computer or laptop then it is a very good thing, but if you want to change the mobile number of your Gmail ID from mobile, then open your browser in desktop mode. Do it then follow the steps below.
Step 1: First go to  Google Account  , or type myaccount.google.com in your browser, after that you will reach your Google Account, if you are not already logged in to Google Account, then log in by entering your email id and password Have to do these.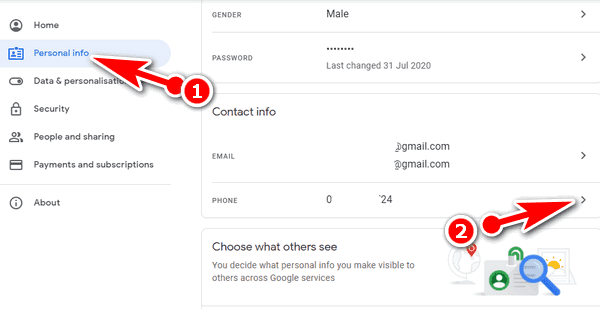 Step 2: After logging in to Google account,  click on personal  info , after that you will see personal information of your Google account, Photo, Name, Birthday, Gender, Password, Contact Info, Email, Phone Number etc.
Step 3: To change the mobile number,   an arrow is made in front of the phone there is an option to edit the mobile number, click on it, as shown in the screenshot.
Step 4: Now, once again you have to click on the arrow in front of the phone number.
Step 5: Now you  will see the option to Edit, Delete phone number, click on Edit  icon see screenshot for help.
Step 6: Now you will be asked to re-enter the password, enter your Google account password then  click on Next  button, after that again you have to click on edit icon.
Step 7: After clicking on Edit  icon again, pop up window will open, you have  to click on update number
Step 8: Now here you delete your previous mobile number and type another mobile number and click on Next .
Step 9: Now  click on Get Code, after that  an OTP will come on the new mobile  number, enter OTP then  click on verify, after that the Gmail ID mobile number will be changed.
I hope you have understood now, how to Change/Edit/Update Gmail Mobile Number , still you are facing problem in changing mobile number, then you can tell us by commenting.