To take use of the services offered by one of the top telecom providers in the US, AT&T, activating your SIM card is a necessary step. To ensure a smooth procedure from beginning to end, we will walk you through the process of activating your AT&T SIM card in this post. To help you with the activation process, we'll provide you step-by-step guidance and answer commonly asked questions.
How to Activate Your AT&T Sim Card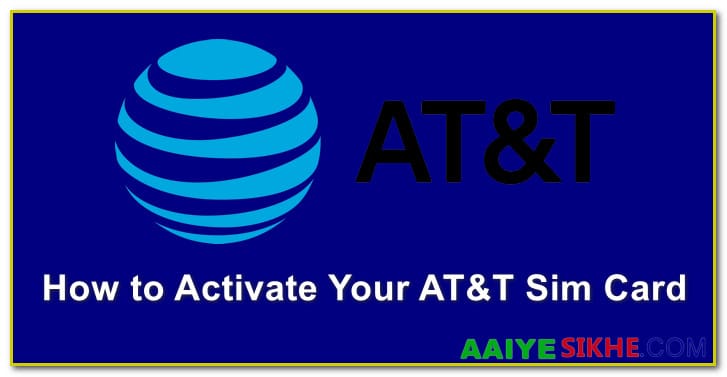 Step 1: Gather the Necessary Information
Make sure you have the necessary information on hand before activating your AT&T SIM card:
your SIM card from AT&T.
the device's IMEI number. You may check the settings of your device or call *#06# on your phone to discover this.
Your phone number, account PIN, and billing address, together with information on your AT&T account.
Step 2: Online Activation
For the activation of SIM cards, AT&T provides a simple online approach. The steps to online AT&T SIM card activation are as follows:
Step 2.1: Visit the AT&T Activation Page
On your computer or mobile device, open a web browser and go to the AT&T activation website. The activation page's URL is often included in SIM card packaging or may be obtained on the AT&T website.
Step 2.2: Enter the Required Information
You will be asked to provide the necessary data on the activation page. This might include the IMEI of your device, your AT&T phone number, your account PIN, and your billing address. Fill in the information completely.
Step 2.3: Follow the Prompts
To finish the activation procedure, adhere to the on-screen instructions. Verifying your identification, accepting terms and conditions, and choosing an appropriate plan for your SIM card may all be requirements.
Step 2.4: Confirm Activation
Once you have given all the required information, carefully verify the data and ensure that your AT&T SIM card has been activated. To prevent any problems, be sure that all of the information submitted is correct.
Read also: What to do to Deactivate Jio Sim?
Step 3: Wait for Activation
Your request will be processed by AT&T when you confirm the activation, and your SIM card should be activated soon after. It could take a few minutes in certain circumstances and a few hours in others. Keep your device turned on and connected into a network during this period in order to receive the activation signal.
Frequently Asked Questions (FAQs)
Can I activate my AT&T SIM card without an account?
No, you must an active AT&T account in order to activate your AT&T SIM card. Prior to starting the activation procedure, you must first establish an account if you don't already have one.
What should I do if I encounter issues during the online activation process?
It is advised that you get help from AT&T customer service if you run into any problems with the online activation procedure. They may aid in problem-solving and guide you through the activation procedure.
Can I activate my AT&T SIM card in-store?
Yes, you may activate your SIM card in person at an AT&T shop if you prefer to. Your activation will be successful thanks to the assistance of the shop employees.
What should I do if my SIM card is not activating?
Verify that you have successfully completed all of the activation processes before continuing if your SIM card does not activate within the anticipated time limit. For further help if the problem continues, get in touch with AT&T customer service.
Can I use my existing phone with a new AT&T SIM card?
You may use your phone with a new AT&T SIM card if it is unlocked and compatible with the AT&T network. However, it's always a good idea to confirm device compatibility first.
Conclusion
It's simple to activate your AT&T SIM card, and you may do it online for convenience and flexibility. You should have no problems activating your AT&T SIM card if you adhere to the detailed steps in this guide. Please do not hesitate to contact AT&T customer service if you have any problems or questions. Enjoy your active AT&T SIM card's smooth connection and services!