Many smartphone buyers today choose to save money by acquiring a pre-owned model. Buying a used smartphone can be a great way to save money, but it's important to do your research beforehand. With the information provided in this tutorial, you should be able to purchase a used smartphone with confidence that it will serve its purpose without draining your bank account.
Why Buy a Used Smartphone?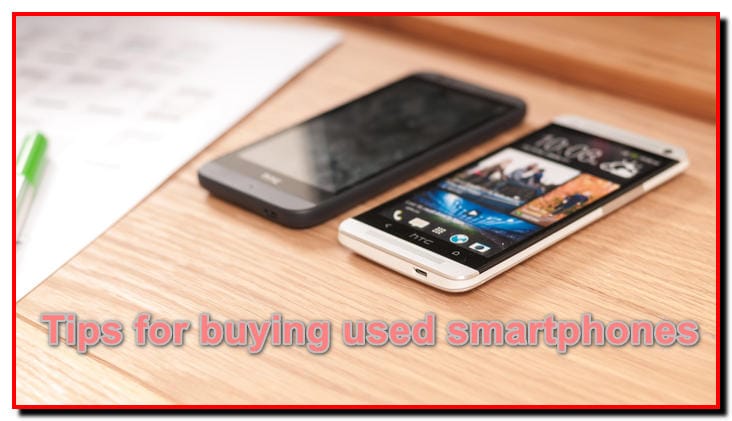 Before getting into the advice, let's quickly examine why purchasing a used smartphone might be a wise move:
1. Cost Savings
The most recent versions of smartphones might cost several hundred dollars. Buying a used smartphone is a great way to save money without having to sacrifice features or functionality.
2. Minimal Depreciation
The resale value of smartphones plummets within a year after their initial availability. If you buy a used smartphone, the original owner has already paid for much of the depreciation.
3. A Wider Range of Options
There is typically a wider variety of models available when shopping for a pre-owned smartphone. Because of this customization, you may discover a solution that works with your lifestyle and your wallet.
Now that you know why it's a good idea to buy a used smartphone, we can get into the specifics of how to do it.
Tips for Buying Used Smartphones
1. Determine Your Budget
Make a financial plan before you start looking. If you know how much money you have to spend, you can eliminate unnecessary options and avoid going overboard.
2. Research the Model
After deciding how much you want to spend, look into the many smartphone options that are within your budget. You can find out which model is best for your needs by reading reviews, user experiences, and feedback.
3. Buy from a Reputable Source
Pick a trustworthy vendor or marketplace to purchase your pre-owned smartphone from. Options that can be trusted include manufacturer-backed certified pre-owned programs, trustworthy brick-and-mortar stores, and reliable online auction houses like eBay and Swappa.
4. Check the Phone's Condition
Check the phone's condition very closely. Check for indicators of damage, such as scrapes or dents. Slight flaws are fine, but major damage is cause for concern.
5. Ask About Warranty and Return Policy
Find out if there is still time left on the device's warranty or if the seller offers returns. The assurance that comes from knowing you're covered in the event of a problem occurring soon after purchase is priceless.
6. Verify the IMEI or ESN
The International Mobile Equipment Identifier (IMEI) or Electronic Serial Number (ESN) of your smartphone should be free of any blemishes. The inability to use a phone on specific networks due to a blocked or blacklisted IMEI.
7. Check for Signs of Water Damage
Smartphones are particularly vulnerable to water damage. Water stains, rust, or a non-responsive touchscreen are all signs that maintenance is needed.
8. Test All Functions
Put the phone through its paces, testing everything from the touchscreen and buttons to the camera and audio features. Verify that everything is operating as it should.
9. Check Battery Health
Make sure your phone's battery is in good shape. As batteries age, it's important to know how much of their original capacity they still have. You can use a battery health check app or simply ask the vendor.
10. Review Software and Updates
Make that the phone's operating system and all other software is up-to-date by performing a software update check. Limitations in performance and security risks are both possible results of using outdated software.
11. Negotiate the Price
If the phone has any visible flaws, don't be afraid to haggle with the seller for a lower price. You can save money or improve your terms through reasonable negotiating.
12. Ask for Documentation
Ask for the product's packaging, instructions, and receipts, if you still have them. The phone's resale value can be increased and ownership can be verified if these items are present.
13. Research the Seller
Investigate the seller's history if you're buying from an individual. Verify their claims using a search of the web to get a sense of their reliability.
14. Consider Refurbished Phones
Certified pre-owned cellphones that have been refurbished have been repaired and tested to like-new condition. They are usually covered by warranties and are a safe option.
15. Don't Rush the Decision
Don't rush into anything while deciding. When you're in a hurry, you can make a purchase you'll later come to regret. Finding the ideal used smartphone requires some serious thought.
FAQs
1. Are used smartphones reliable?
The dependability of a pre-owned smartphone hinges on its physical condition and maintenance history. You may improve the odds of receiving a good phone by only purchasing from credible sellers and giving it a full inspection before buying.
2. How can I check if a used smartphone is stolen?
IMEI and ESN verification using online databases or with your cell carrier will tell you if a previously-owned smartphone is reported as stolen. A stolen phone can be identified by its IMEI being blocked or blacklisted.
3. What is the difference between a certified pre-owned and a refurbished smartphone?
A certified pre-owned smartphone is typically a used device that has been inspected and certified by the manufacturer or a reputable retailer. A refurbished smartphone, on the other hand, has undergone repairs and testing to bring it back to like-new condition. Refurbished phones often come with warranties.
4. Is it safe to buy a used smartphone online?
If you take reasonable measures, such as using a trustworthy marketplace, investigating the seller, and inspecting the phone carefully, buying a used smartphone online is a secure option. Protective measures are in place for users of online markets like eBay and Swappa.
5. How can I extend the lifespan of a used smartphone?
Battery life can be prolonged in a used smartphone by protecting it from overcharging, charging it in a cool place, and making use of the device's power-saving functions. Always use the most recent software and a sturdy case to keep your phone in pristine condition.
6. Can I negotiate the price when buying a used smartphone?
When purchasing a used smartphone, it is possible to haggle over the price, especially if you find any problems with the device or if the seller is flexible. Negotiating with grace and dignity can improve your bargaining position.
In conclusion, second-hand smartphone purchases can be an economical means of acquiring a functional and capable mobile device. You can improve your chances of finding a trustworthy secondhand smartphone that fits your demands and price if you follow these guidelines and do some preliminary research. Take your time, perform a thorough inspection of the phone, and only deal with a trustworthy seller or marketplace.